I make a lot of oil infusions as well as tinctures for my family's medicine and skincare, and also for my small business. I make most the infusions in organic sunflower oil, as it is emollient, has a long shelf life and quick absorption rate. 
You may use the folk method to make herbal oils. Simply place dry or wilted, almost dry herbs in a clean, dry quart jar. Leave some open space above your herbs to cover with oil. Mine has expanded, settled, and floated you can see.
As we know, oil and water do not mix, and fresh plants have a good amount of water in them. Water mixed in with your oil can cause mold or cause it to go bad. One exception to this is St. John's Wort. Fresh flowers are used to make that infusion.
Fill the remaining space in jar with oil of choice, making sure to cover herbs by at least 1 inch or more. If you're using the folk method, you can leave your jar on a shelf or sunny window. Shake your jar daily for six weeks and strain into a clean jar. Now you can craft salves, soaps, moisturizers, first aid, and other things with the oil you've made, simply by choosing the proper plant for your crafts. That's another post...
Some of my favorite herbs to infuse are (left to right) in the photo above. 
Valerian root or Valeriana officinalis i one of my favorite nervines.  I'm not bothered at all by its pungent smell except for the one time I put a few drops the diffuser for sleep. That was a mistake. We slept like kittens but the whole house smelled like dirty socks.  Otherwise, I like the smell of its essential oil, especially when a touch is added to a strong citrus blend. I'm paranoid of chemicals, so I make my own perfumes as well.
I do take Valerian as an infusion or strong tea, but I love it topically though it is not commonly used in this way.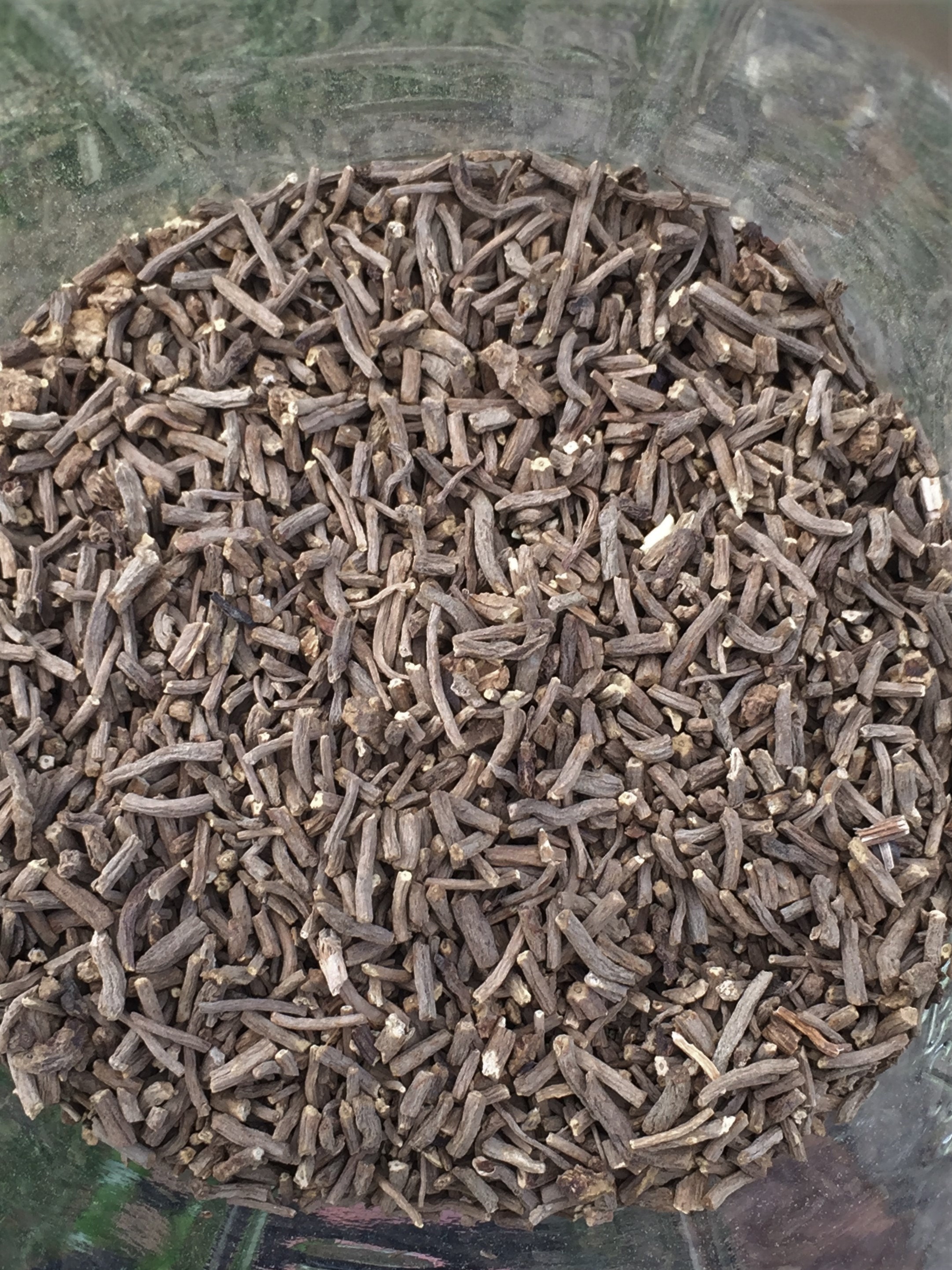 If you're curious about valerian as a topical treatment check out Dream Cat salve
Topical Valerian use can calm nocturnal anxiety, nightmares, and panic attacks. It can also ease pain associated with fibromyalgia, migraines, muscle spasms, menstrual and digestive cramps. It's warming energetics make it quite good for massage.
In Witchcraft Valerian is associated with healing, protection, deep dreaming, and communing with animal spirits, most specifically cats. It has a similar effect of catnip on some cats. My girls don't care about it. It drives my male cat insane...
In the next jar, I have a mixture of three herbs containing thujone. Tansy, Wormwood, and Mugwort. Herbs containing this chemical are contraindicated during pregnancy. This is what I have come to call Weird Sisters oil after the three Shakespearian Witches. All three herbs are related. They all belong to the Asteraceae family.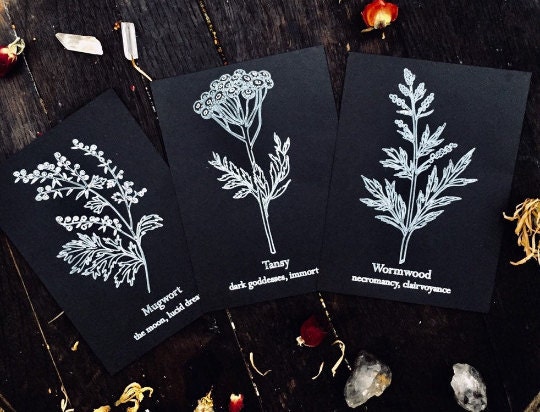 Mugwort or Artemisia vulgaris is a topical anesthetic and is well known for its ability to warm and circulate energy throughout the body and is specific for breaking up congestion or stagnation. It is traditionally used to incite prophetic dreams.
In Witchcraft we use Mugwort or for protection, women's rituals, Midsummer, croning rituals and to aid in clairvoyance.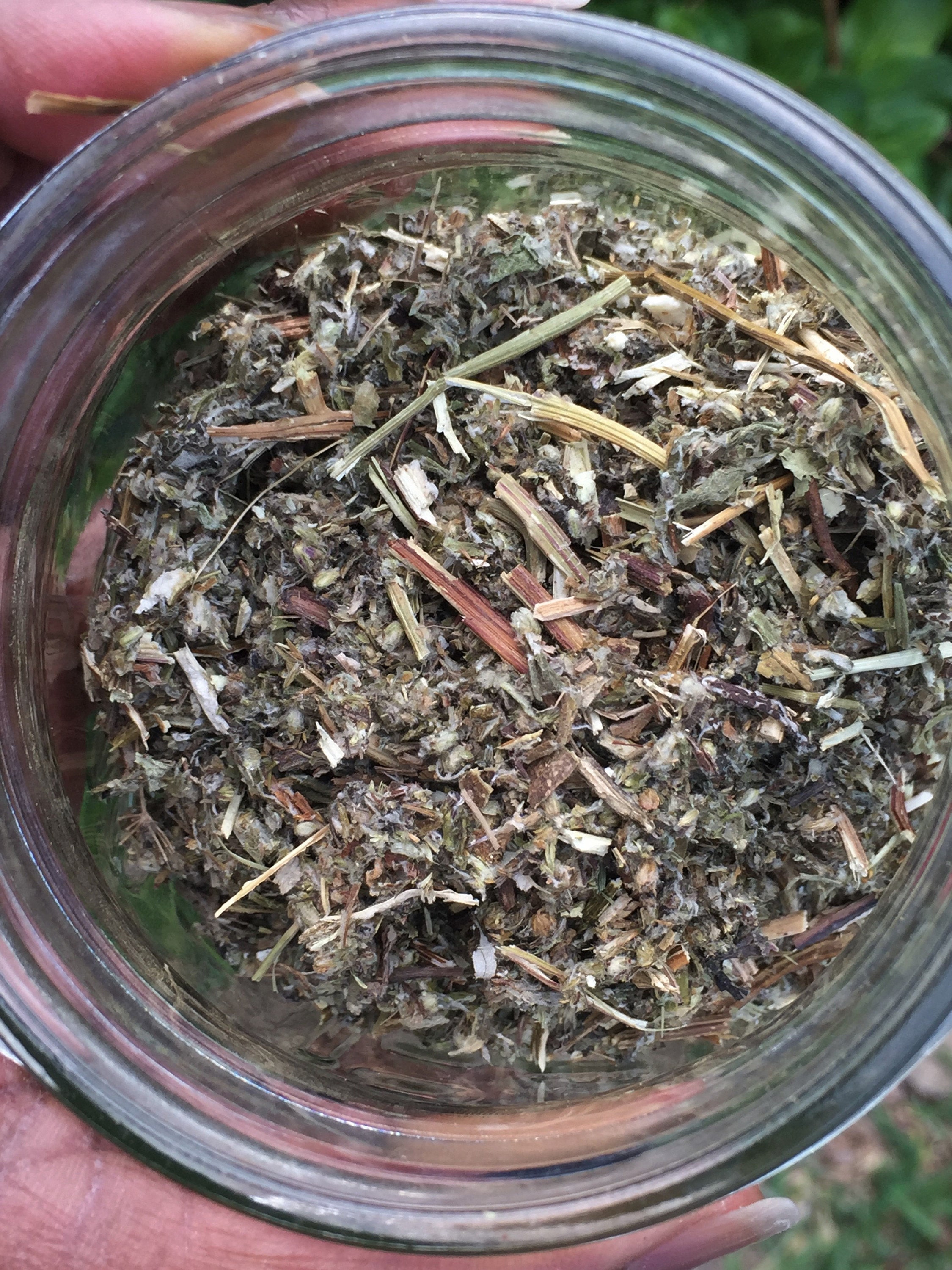 Tansy or Tanacetum vulgare  is used folk medicine is used in the form of poultice and applied on swellings as well as a number of eruptive skin conditions. It can calm the nerves, and ease painful conditions including neuralgia, joint pain (rheumatism) and sciatica.
In Witchcraft, we use tansy for cleansing, funerals, and hexes.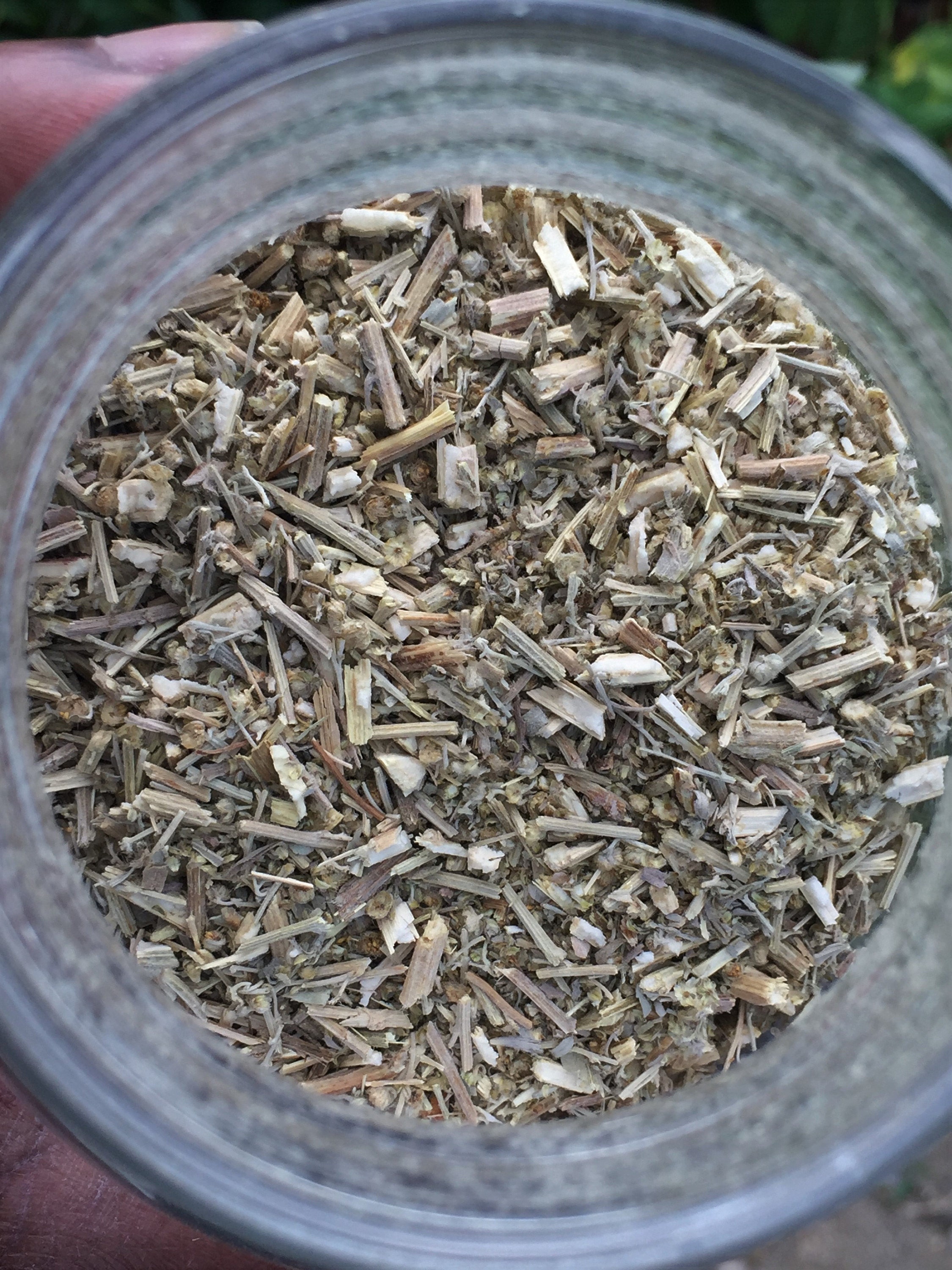 Wormwood or Artemisia absinthium is a strong anti-inflammatory and very helpful in easing joint pain. Studies have shown that Wormwood can be effective in treating rheumatoid arthritis. In addition to its pain-relieving qualities, I have experienced restful sleep, mild euphoria, and thought inspiring dreams
In Witchcraft, we use Wormwood for scrying, divination, spirit work and banishing negativity.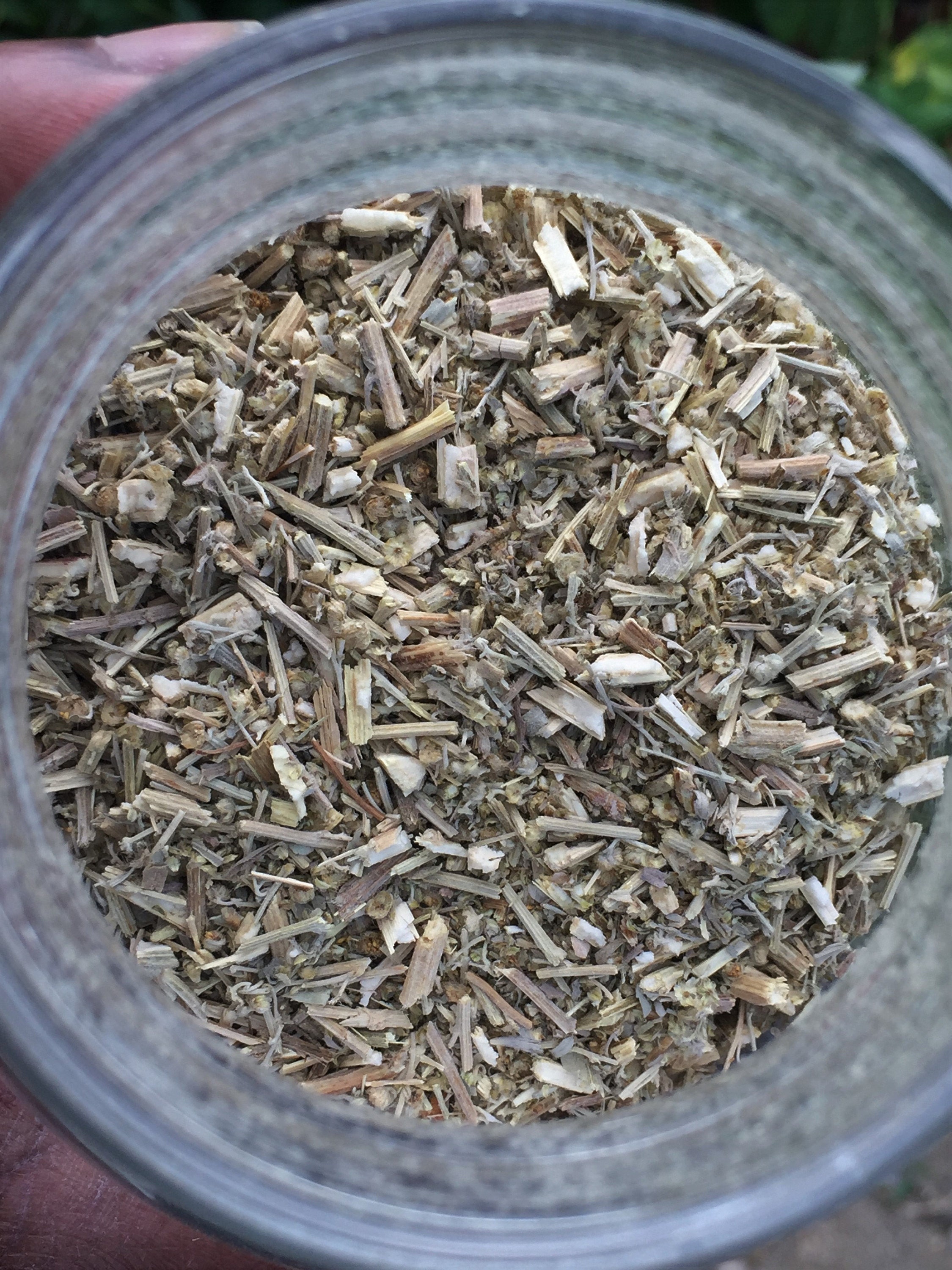 The jar following Weird Sisters oil is simply Wormwood alone. (See above description) Wormwood has cooling energetics. I will craft this oil into  Artemisia salves for joint pain, and vivid, thought inspiring dreams. 
Cabbage Rose or Rose centifolia is antiseptic, anti-inflammatory, calming, moisturizing, anti-aging, and antiviral. 
In Witchcraft the rose is used to attract love, peace to the home, healing, inspiration, and wisdom. It is also a powerful aid in divination, prophetic dreams, and Otherworld contact. It can provide emotional support after a loss. In Occult Herbalism it is also true that roses can be used as a substitute for any flower.
If you choose to consume rose tea, burn roses as incense or use them on the skin, be sure they are from a pesticide-free source.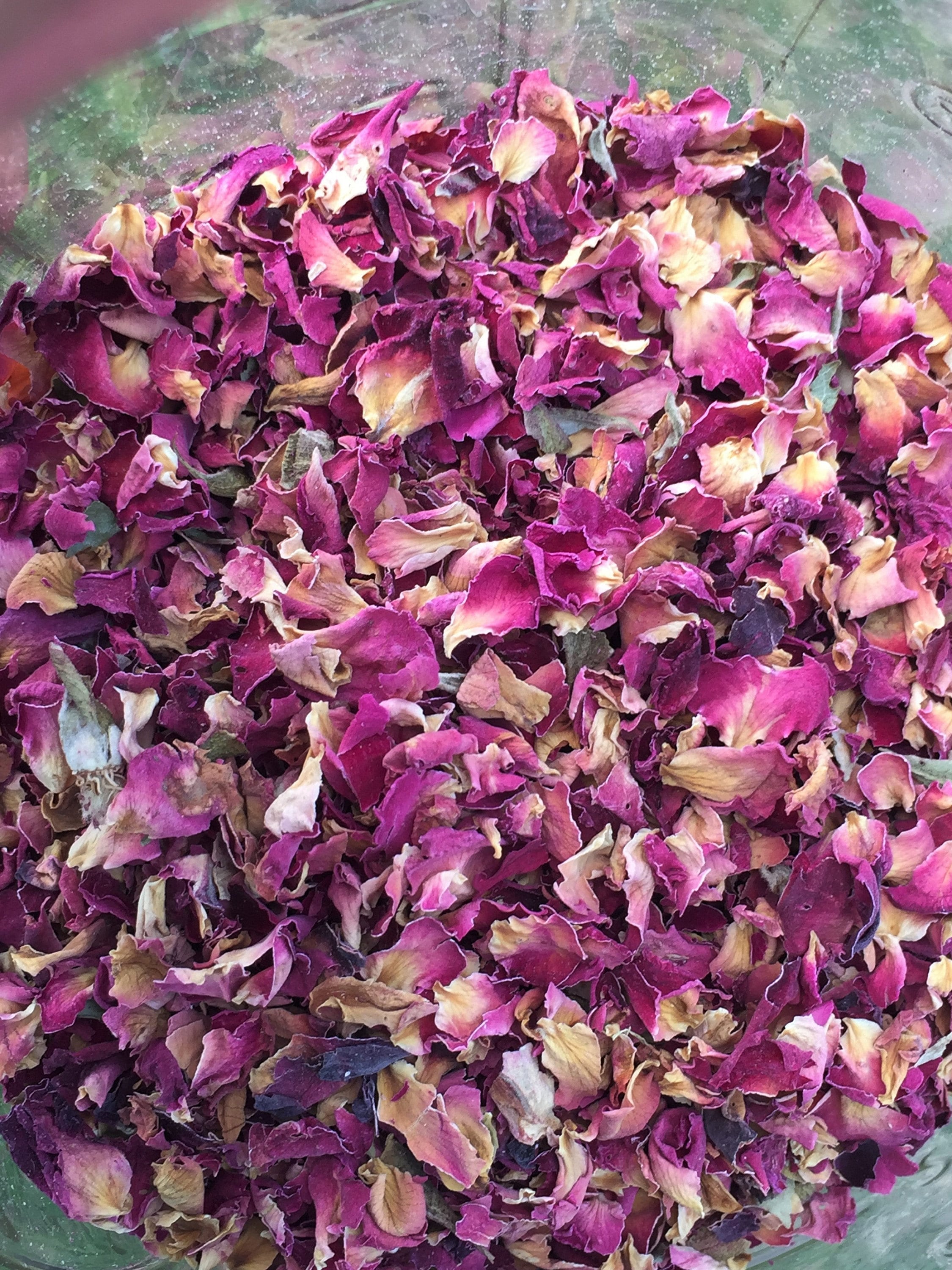 Have you tried making herbal infusions? Which ones are your favorites?
-Sabbatha